Just like Grandma rolled by hand and baked from the kitchen. Still warm from the oven with melting butter and sugar rolled up inside. Fresh homemade lefse was a warm, snuggling hug for your taste buds.
Countryside Lefse lets you experience the simple, lip-smacking perfection of authentically handmade lefse again. This is old-world Norwegian lefse, passed down as tradition from the homesteads of our heritage. No instant potatoes. No machines used to roll. No shortcuts at all. We wouldn't dare . . . Grandma wouldn't approve.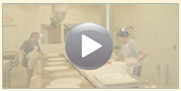 Check Us Out On WPR's Around The Farm Table. Our feature starts at the 7:30 mark of the show.

WATCH VIDEO

Do you have any questions or comments for us? If so don't hesitate to contact us. We are more than happy to help you. Call us at
1-800-584-6789
or use the form on our contact page.

CONTACT US